PhD opportunities at EPCC
Author:
Nick Brown
Posted: 29 Jun 2020 | 14:38
We currently have applications open for PhD students, starting late 2020/early 2021 depending upon their situation. Four of these have been advertised on findaphd, with the closing date at the end of the month.
In addition to our MSc programmes, EPCC also hosts a number of PhD students who are researching a diverse set of areas: from traditional performance optimisation for HPC, to new data science technologies and novel computing architectures. Supervised by EPCC members of staff and housed in the Bayes, not only do these students benefit from being part of the UK's leading HPC centre, but they also have access to the wider University's large range of resources.
I myself have a proposal exploring the role of FPGAs for accelerating quantitative finance codes. This is driven by recent developments by vendors of reconfigurable architectures, such as Xilinx, which make it a far more realistic proposition than ever before to accelerate codes using FPGAs. I think it's fair to view FPGAs similar to what GPUs were around 15 years ago – namely a very interesting architecture with significant potential, but there are also a number of challenges that must be overcome in order to obtain optimal performance.
But as I say, there are some recent developments which I think are very exciting here. Firstly the great improvements in hardware capability, where in the past couple of years the chips themselves have become much more powerful than ever before, such as the Alveo U280 which is shown below. Secondly, there have been improvements in programming environments – which has traditionally been a major stumbling block with this technology. Late last year Xilinx released their Vitis software development platform, and we think that this is a game changer when it comes to how one develops code for an FPGA, making it now much more a question of software development rather than hardware design.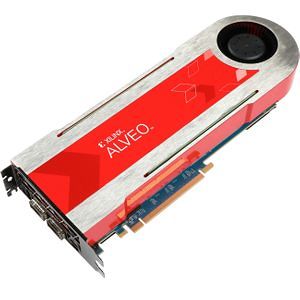 Vitis isn't just the programming platform itself, but additionally a whole load of open source libraries that developers can leverage to much more quickly write their code. The Xilinx Edinburgh office specialises in the quantitative finance aspects of this library, and whilst they have done a great job here, there is still much to be explored and functionality to be further developed. I think this is actually one of the fascinating aspects of FPGAs, as whilst these architectures currently work well in some fields, and demonstrate significant potential in others, lots of exciting progress is required and many associated research questions must be answered to enable them to reach full potential.
You can view details about this PhD project, and all our other projects, at findaphd.com and also on the EPCC PhD page. The current studentship funding is from the EPSRC research council, and does have some associated nationality restrictions. However we accept students with PhD applications funded by other means all year round.
Author
Nick Brown, EPCC