Research highlights
Examples of EPCC's internationally recognised research at the leading-edge of HPC and Data Science.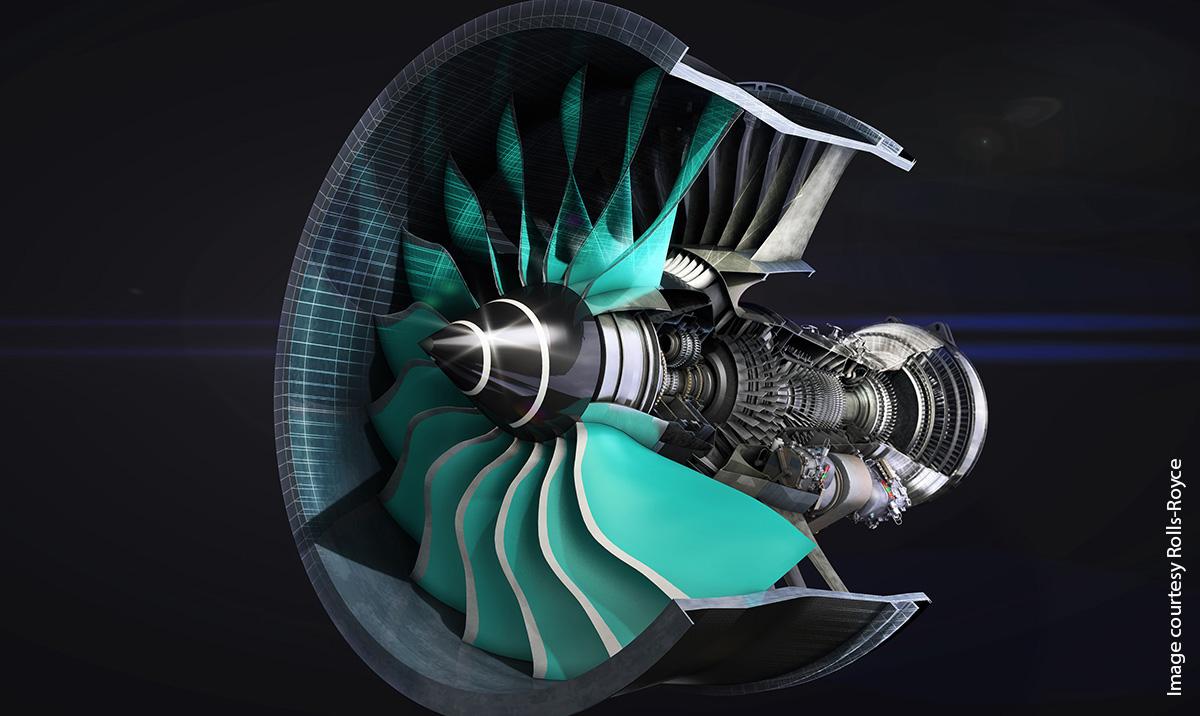 Strategic Prosperity Partnership with Rolls-Royce
Developing the world's first simulation of a full gas-turbine.
EPCC is leading this ambitious and challenging programme of research funded by EPSRC and Rolls-Royce, in partnership with the University of Cambridge, the University of Oxford, the University of Warwick and the University of Bristol. 
By 2030, the goal is to work towards the "virtual certification" of aircraft engines by modelling gas turbines in operation. This requires a unique combination of fundamental engineering and computational science research to address a challenge that is well beyond the capabilities of today's state of the art.
Software collaborations with the UK Met Office
High resolution modelling of local atmospheric conditions to deliver high accuracy weather forecasts.
EPCC worked with the Met Office and the Natural Environment Research Council (NERC) to redevelop the LEM model to enable a step change in capability. We ensured the code for the Met Office's new atmospheric model—MONC—would run on large HPC machines and provide significant efficiency.
The model is now routinely used across the UK and wider world, with domains of up to 2.1 billion grid points having been modelled on over 32,768 cores of ARCHER (the UK's previous national supercomputer service). There have been numerous scientific discoveries made with MONC that would have been untenable with previous-generation models.
Exascale research
EPCC has been involved in various aspects of Exascale research for 10 years.
Overview of EPCC's Exascale activities
EPCC has been involved in research around the core issues of Exascale computing for over a decade. This "Computing in Science and Engineering" article summarises our efforts, ranging from investigating energy efficiency and programming language interoperability, to application performance and I/O solutions:
ExCALIBUR programme
The ExCALIBUR programme is a £45.7M initiative from the UK government's Strategic Priorities Fund (SPF) led by the Met Office, UK Research and Innovation (UKRI) with the UK Atomic Energy Authority (UKAEA).
The aim is to prepare high priority applications for Exascale and progress cross-cutting domains such as algorithm design to maintain a leading position for the UK in high performance computing. Work is focussed on issues of strategic importance such as drug and vaccine research, climate and weather prediction, and fusion power and green energy sources.
EPCC is leading or co-leading the following ExCALIBUR collaborations:
Exploring novel hardware architectures
EPCC researches how to exploit novel hardware in order to accelerate numerical and data intensive applications.
In recent research, we have explored novel hardware such as byte-addressable persistent memory to accelerate I/O intensive applications, Arm-based CPUs in order to assess the maturity of the surrounding software ecosystem, and FPGAs and AI-accelerator technologies to study alternative technologies to achieve high performance with high efficiency.