Chancellor's Fellowship in Quantum Computing
25 April 2023
The Chancellor's Fellowships scheme at the University of Edinburgh is a prestigious 5-year programme aimed at guiding outstanding early career researchers towards becoming leaders in their scientific fields and driving innovation.
Although the scheme has been running for several years, the recruitment of the most recent cohort of Chancellor's Fellows was EPCC's first involvement with the programme and we are delighted that two Fellows will be part of EPCC.
Our first Chancellor's Fellow is Dr Oliver Thomson Brown and he describes his Fellowship below.
My fellowship will be focused on answering three fundamental questions about quantum computing and HPC: where, when, and how? 
First, I'm interested in seeing where we will be able to apply quantum computing to accelerate or enhance computational methods. This is a major open question within the field, and perhaps the most important currently. Naturally, I'm particularly interested in those areas where HPC is currently applied, but I'm excited to see what new problem domains quantum computing may open up! 
Secondly, I'm interested in when we will actually see advantage from using a quantum processor (QPU), be it in terms of performance, computability, or energy usage. 
Finally, I'm interested in how we will combine quantum computing and high-performance computing (HPC). Much of my work at EPCC until now has been focused on programming models for heterogeneous systems, and it doesn't get much more heterogeneous than combining quantum and classical compute. There are many exciting open questions about how QPUs may interact with existing HPC programming models like OpenMP and MPI. In the near term, we expect to see one QPU per supercomputer, but will we one day see one per node? Perhaps even one per NUMA region! 
I'd also like to investigate what HPC can do for quantum computing. My PhD was in simulating many-body quantum systems, and simulation remains an important tool for quantum algorithm developers, despite the well-known scaling problem. It's also expected that quantum computing may itself require significant classical computing resources, to handle I/O and error mitigation for example.
I am very excited to be starting this new chapter of my life at EPCC, and with the recent launch of the Edinburgh Quantum Software Lab collaboration between Informatics and EPCC, the timing couldn't be better.
Read more
Chancellor's Fellows at the University of Edinburgh.
Quantum computer image by Bartolmiej Wroblewski/Getty Images.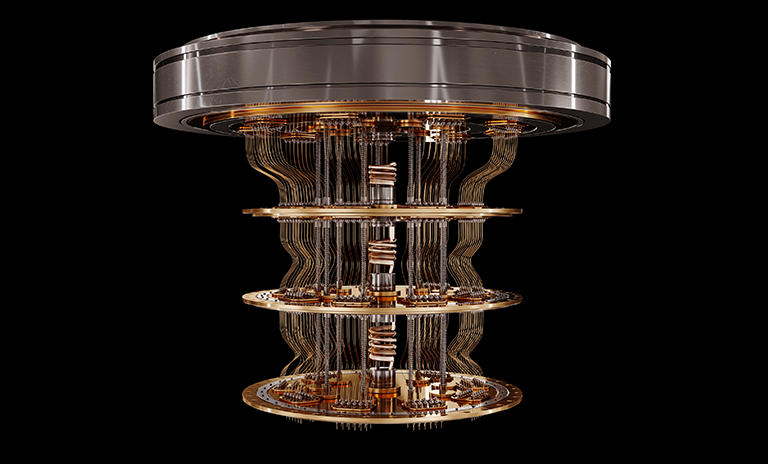 Author